front | fun | sightseeing | practical | CASI
---
Town Hall
---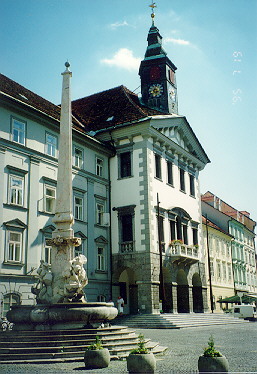 The main reason for this building not to be Plecnik's is that he wasn't born yet when it was built, in 1484.

The first building was built in Gothic style, near the place where Tran"ca is today. The only remains from this construction are the sculptures of Adam and Eve made by Janez Lipec. In that time it was a tradition to kiss them when you visited Ljubljana. Unfortunately, you can't follow that tradition because the sculptures are not there any more, they're at a museum.
Continuing our history lesson, this building, which was called Komun was rebuilt were it is today, near The Robba fountain.
It was built in 1717-1718 following the project of Gregor Ma"cek. There was a previous project by Carlo Martinuzzi that was rejected because it had a spiral staircase.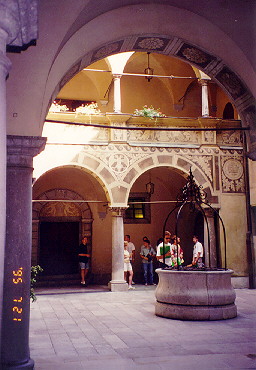 Relaxing for a while, away from the hot Summer Sun, you can enjoy the Town hall interior. The Baroque arcade with its pattern painted arches, the well in the interior yard and the Narciso's fountain will sure catch your attention.
In case you have a GPS equipment you can find the Town Hall at:
Latitude - N 46o 2.967'
Longitude - E 14o 30.359'


---

maintained by mm