front | fun | sightseeing | practical | CASI
---
Robba Fountain of Carniolan Rivers
---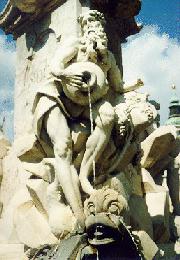 The area the fountain is situated (Mestni trg) is considered to be the youngest part of the medieval town, however, the history of the buildings of this area can be tracked back to the 12th century.
The fountain, next to The Townhall, is said to be the most beautiful Baroque monument in Ljubljana and it is quite well placed to the junction of threee streets. It symbolises the three rivers: Sava, Krka, Ljubljanica and it is characterized by the figures of the three sturdy, lively tritons with oval jugs in their hands and dolphins at their feet.
The monument is inspired after a fountain in Rome (in Piazza Navona) and had a quite scandalous birth in 1751. Some of the marble taken from Italy sank near Trieste -- that is why only the figures were made of Carrara marble, and the artist, Francesco Robba, could not keep the deal.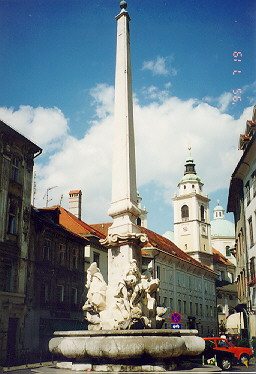 The fountain is 10 m high.

---

maintained by mm