front | fun | sightseeing | practical | CASI
---
Cevljarski most (Shoemakers Bridge)
---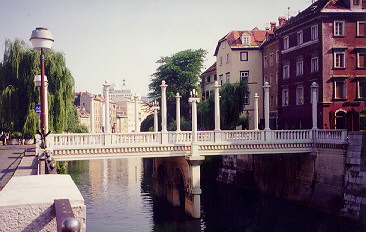 The Shoemakers bridge and the Three Bridges are the oldest bridges crossing the river Ljubljanica in Ljubljana, dating back to at least the 13th century.
The name of the Shoemakers bridge has a funny story behind it. It started out as a wooden bridge with butchers' booths on it, but the stench was so awful that the Emperor paid to have them removed to another place. The ones who took over the booths afterwards were shoemakers, giving the bridge its present name.
Bridges are the perfect places to control the flow in and out of a town. The Shoemakers bridge was no exception, so it was used to collect a considerable toll on merchandise such as groceries, saffron, pepper and velvet.
Reconstructions of the Shoemakers bridge were quite frequent, provoked by fires or floods, so in 1867 an iron bridge was built. The iron bridge was moved in 1931 further down the river where it is still in use, replaced by a stone bridge designed by Plecnik.

---

maintained by mm