front | fun | sightseeing | practical | CASI
---
Seminary
---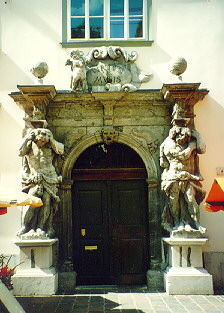 On the photo you can see the entry to the Seminary building, which is situated to the north of the cathedral. Its construction began in 1708 according to the design of Frulian Carlo Martinuzzi and lasted till 1772. The wings of the building (east & north) were built in 1758 and the Peer one in the end of 18th century. The last one was designed by Baroque architect Candido Zuliani.
The portal was made at the Ljubjana sculpture workshop of Luka Mislej according to the design of Angelo Pozzo. As you can see on the photo two giants support the timberwork and the medallion above it.
The most worth of seeing is two-storeyed library, but it is uncertain that it is open to visitors. The vault of the library was painted in 1721-1723 by Giulio Quaglio and his son Raphael. The paintings present allegorical imagination of Antique and Christian wisdom. Worth of seeing are also oak-furnishings inside library and the Baroque ornament above the window on the west wall.
Seminary library

---

maintained by mm