front | fun | sightseeing | practical | CASI
---
Franciscan Church
---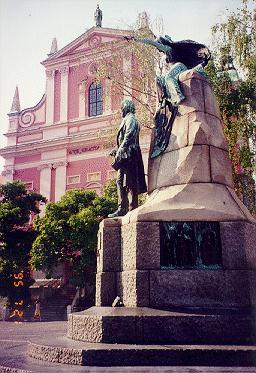 That church is the one located in Preseren's square. You will recognise the square because of its big circle painted on the pavement. The church belongs to the Franciscan order but it was formerly Augustian church. It was built between 1646 and 1660 in a Baroque style, as you can see on the façade: three niches with Baroque figures, a group of frescos by Wolf and a plastic figure of the Loretto Virgin made from cold hammered copper at tha top of the attic. The figure is almost 4 metres high and weighs 448 kilograms and was made in 1858 according to the design of Franz Kurz von Goldstein. You can also see the belltowers, which were built later, in the rear of the nave.
Inside the church you can realise that the presbytery is as wide as the nave without the chapels, which is not very usual. That nave with its chapels is an influence of italian architecture. At the presbytery, the most important feature is the great altar by Francisco Robba, who also built some other monuments around the city. On the arch you will be able to see a depiction of the Three Kings by M. Cussa.
The monastery is an excellent example of the Franciscan wood carving workshop. An example is the crucifix on the right side of the presbytery.
The monastery also prides itself on a library of more than 60.000 volumes and manuscripts. The library was designed after the 1895 earthquake by the architect Jeblinger from Linz on the Danube.

---

maintained by mm